Same gig as last year. We don't
expect
anything, but should family want to get stuff- here's a list. Go nuts! (not really) I'll add this to the side bar, just click the green Wish List box at the top left. That looks like this: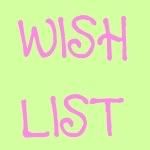 Sophie
(her list counts as a birthday list as well)
favorite color - pink
favorite animal - giraffe & unicorn

Size 7 shoes
3t summer clothes
3t winter clothes

undies(2t/3t) & socks
show gear - boots, suit, gloves
play/dress up clothes
play kitchen supplies
books
bows/hair clips
art supplies
kid moves (dora, spongebob, princesses)
purses/bags
play jewelery - necklaces & bracelet
Mya
(baby shower list)
Diaper Registry: my name, password = "boobies"
baby monitor
side snapping shirts (at babies r us, target, walmart)

fleece pjs
fuzzy socks
crib mattress
small dresser
nursing pillow
Grandmas normally do well in spoiling with clothing. We already have the necessities: crib, swing, clothes, pack n play, bouncer. If you do get clothes, we are MORE than set in 0-3 months already.
Denny
Eve time cards - $35 for 2 months. (his nerd game) easiest to just give him the money, so you don't get scammed online
Dragon Quest IX: Senteniels of the Starry Skies - for the Nintendo DS
shoes 11 1/2 - 12
xl button up shirts (work shirts)
Me
reusable cloth nursing pads or Lily Pads

a good straightener
electric hand mixer
button up pjs
nursing tanktops

charm bracelet
fun jewelery (just not cheapo earrings, they hurt my ears)
shoes 7 1/2 - 8
JoAnn's gift cards / craft supplies
makeups